I've tweeted a lot about this campaign to save futsal but I wanted to give it a bit more reach, a permanent place on my website and also give a bit more from my point of view and what it means to me.
If you haven't already, make sure you visit the website set up by some of the England players and staff to unify the campaign: https://www.savefutsal.co.uk/. There you can see what steps they are taking and sign the petition on Change.org.
The brunt of the campaign is against wholesale cuts to the funding dished out by the FA for futsal, which have also signalled the end to the England national team, at least temporarily.
A £1m budget has been reduced to circa £50,000 which appears wholly misguided considering futsal has benefitted in the past 12 months from a multi-million-pound sponsorship investment from Pokemon for youth futsal, the first of its kind in England. The budget and program cuts will have a devastating impact upon tens of thousands or young people across England where futsal cuts across every pathway for male, female, BAME and disability in some form. 

www.savefutsal.co.uk
The save futsal petition is currently at just over 5,000 signatures and while that represents a significant figure – it's far off the amount of futsal participants in England and we should be encouraging more people to sign, to show The FA that futsal is important to us. So, please share as wide as you can. I'm fully behind the campaign and also supporting futsal in England any way I can from Asia!
Dreams shattered
On hearing the news of the cuts, my first thoughts were with the England players and staff. For Michael Skubala (and the staff), losing the England national team is more than just a dream, it was his living too. Having been through a redundancy at Tranmere and knowing how it feels – also a decision made for futsal by football people – I immediately reached out to him. He'll be okay, but with a young family to look after, something I didn't have to consider, it must be hard, especially when you'll see these are totally unnecessary. England still have a small matter of a UEFA EURO 2022 qualifier to play in – will they be deflated or extra motivated? Hopefully the latter and they can qualify for the group stage – good luck – it would be a nice way to back up this campaign with a win!
Futsal Professionals Abroad
Another person I really felt for was Liam Palfreeman. Currently the only other English person (not counting Guille!) as a professional in futsal and while the cuts don't affect us financially, this is where dreams are shattered. Having visited Liam last year in Italy and getting to know about his sacrifices to play professionally abroad, I feel for him, knowing that playing for England is a huge honour and for him and his motivation. Like me, Liam went abroad to better himself for the good of the future of England amongst other things.
I had a choice in 2013 to either leave England and study futsal in the best place in the world for it – Barcelona – or stay and grow a club that was on the up. It is always sad to think about the demise of Middlesbrough since I left and both paths would have given me huge satisfaction, but I always felt that English futsal needed outside influence (not a view shared by some within the game). That meant me going out to learn as much as I can, taking the UEFA B and UEFA A courses and getting experience from professional clubs so that I could give back one day, and ultimately manage my country. I still hold hope, but England needs participants and investment from The FA (at least the reinvestment of money generated for futsal) NOW if one day in the future we'll be competitive on the international stage. By the way, running a futsal competition for existing football clubs, with no exit route or pathway does not represent an investment in futsal, in my opinion.
My Journey
I've always said that the only job I would return to England for is the national team job or when futsal is being taken seriously by a club. At the time when Tranmere called, there were so many positives and England seemed to be going in the right direction. The Super League was the best season of club futsal in England that I can remember, we had created a futsal section that fully supported football, without being just a development tool, (Much like the plans Ronaldo has to use futsal at Real Valladolid) and the national team were on a good run. Now it seems like a million miles away that England might have an opportunity for me. That's okay though, I'm really happy in Malaysia at the moment and it also justifies my decisions to leave England on both occasions, looking back. I may never have had the opportunity, especially when one of the current decision makers, a coach I looked up to as a budding 21-year-old coach myself, once threatened to "ruin my futsal career". But to have this taken away now removes all doubt!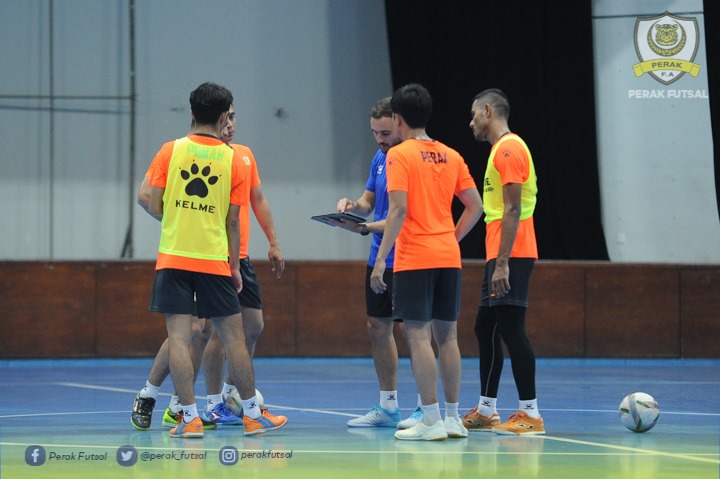 Save futsal – reverse the decision
The immediate aim for English futsal is to try to get the decision made by The FA looked at. Futsal in England won't stop, indeed it might eventually thrive, but it's certainly taken a hit, especially as the community was growing and getting behind the FA's six-year strategy – what for? One of the biggest selling points for futsal was the opportunity to play for your country and now a huge carrot has been taken away from parts of the futsal family.
Futsal family
England needs to join together now more than ever for futsal and from what I have seen since the announcement, it is happening. For years futsal has suffered because of divisions in which way to go. Most recently when the National Futsal Series broke away from the National Futsal League and created two separate leagues, highlighting this divide. The core of the community won't go away and futsal will stay as part of the football development landscape – the reason we're in this mess by the way, because futsal hasn't "succeeded" in producing the next Messi. The futsal family will rally round and either the FA will be forced to review their decisions, or futsal will go solo, by and for futsal people. Just looking at the below graphic and those 17,600 players says that futsal has a future. Just a tenner affiliation fee per year for everyone who plays futsal (which I'm sure the FA collect), will go a long way to funding the sport, not even mentioning UEFA funding and the huge sponsorship from Pokemon, which was for futsal. Right? If a futsal organisation could manage its own affairs, without the FA putting in money, or taking it away, then futsal will be where it deserves to be, no further ahead, no further behind.
Bad decision
I've not seen anyone commend this move by The FA, especially when it represents a mere 0.3% of the overall budget – what are they actually gaining? It's an attack on futsal by people who couldn't care less. The world has reacted, mainstream media has covered this and The FA remain silent. Meanwhile, one of the men behind this decision has announced his decision to step down. Talk about leaving a legacy…
We'll be okay
Anyway, I know that futsal will be okay. It's a sport, ultimately in the hands of football powers such as FIFA, UEFA and local federations, and in the most part, futsal is being done justice. You just have to look at Spain (€8,000,000 investment recently announced), France and Germany (both started after England and looking much further ahead) and as I'm here, I'll mention Malaysia too, with a full professional league, sponsors and TV coverage.
Different approaches…

🇩🇪 Germany: Announces Futsal Bundesliga from 2021/22
🇫🇷 France: Building Futsal centre in Lyon for best 16 to 18-yr-olds
🇪🇸 Spain: €8m funding package for Futsal
🏴󠁧󠁢󠁥󠁮󠁧󠁿 England: Ends funding for senior teams/ cuts it for grassrootshttps://t.co/5bb13V2B9X

— Training Ground Guru (@ground_guru) September 24, 2020
For now, English futsal players and coaches will have to look abroad (let's forget Brexit for a moment!!) for professional opportunities, or within their communities to keep the growth and keep the dream alive for the kids who play.
You make your own luck and I am sure those who still have dreams in futsal won't give up. As for me, I'll keep working hard on becoming the best coach and one day, maybe I'll get to compete in a World Cup, with or without England!
Links
https://www.change.org/p/oliver-dowden-save-futsal-in-england?utm_content=cl_sharecopy_24894829_en-GB%3A0&recruiter=1151516598&utm_source=share_petition&utm_medium=copylink&utm_campaign=share_petition&use_react=false
https://www.thetimes.co.uk/article/cutting-futsal-funding-could-set-gareth-southgates-team-back-20-years-says-englands-doug-reed-vb3c92x69
https://trainingground.guru/articles/football-association-cuts-funding-for-futsal