Happy new season day! 1st July is when the clock ticks over to the new season – new contracts, new competitions, new challenges. 2022/2023 here we go!
I'm glad to see the back of 2021/2022 because for me it ended in December when the club I was at broke the contract and didn't pay me. This hit particularly hard as I'd left a good life in Malaysia to join a project full of promise (and promises). It wasn't just about the money, but everything about the experience of what was supposed to be a "serious" club was the worst I've experienced in my career so far – training once per week with six (eligible) players, match kit turning up 15 minutes before kick off of a big game are just a couple of examples. The players were great and I enjoyed working with them and the city was amazing, but professionally, it was a disaster.
However, 2021/22 did have some of my career highlights. The Futsal World Cup with Solomon Islands for one. My first Copa de España as a fan and plenty of learning opportunities. So while it didn't pan out how I'd hoped, I can certainly see the positives and I feel like I'm in a good place ahead of the new season.
Always follow your heart
I will be back coaching this season. That's for sure. I've had some really good projects presented to me and I can't wait to let you know where I'll end up. I did have a few months at the start of the year where I was really considering changing careers, perhaps to something more "normal". In the end and especially after my trip to Spain in April for the Copa de España, I decided that I want to continue on my journey as a coach. I dream of competing in the Champions League and seeing the final four live gave me a much needed boost. I couldn't imagine a life without futsal and I've always followed my heart, pursued my dreams and passions, so in the end that's what "persuaded" me to stay!
New season aims
I've had plenty of time to evaluate and reflect on my coaching and I hope to be able to implement my philosophy in a serious environment for the first time since before the covid pandemic. I'm really looking forward to getting started.
First up though we have the return of Futsal Camp UK after covid. A tough edition to sell, but with the Foundation of Light futsal team hosting us this year, we'll have a top experience ready for 2023!
It's always a good time to study too. While I have never stopped, I feel that having a clear objective and a team to coach motivates me to study more in depth. You learn more by doing too, so it will be a big year for my own development. Do check out the Profive Academy if you are looking for a good futsal course:
https://40×20.profive.academy/?ref=83b9ed. Using my link will help me out with a small commission too.
Of course, I'll keep my website up to date throughout the season and share as much as I can. It's always been my aim to keep sharing and giving to the community through social media, my blog and YouTube. It always helps to receive your feedback. Your comments keep me motivated to share and of course, help me know what is useful for you! If I can study, have a successful season, get Futsal Camp UK back up and running and keep my website up to date, I think I'll be satisfied! So what have we got to look forward to?
UEFA Futsal Champions League 2022/2023
The main competition in Europe is back and continues to grow after a successful finals event in Riga – the first at a neutral venue. Here you can find the coefficients (rankings) of all the teams competing this season ahead of next Thursday's draw (7th July). It's not the simplest of formats. In a nutshell the preliminary round will see 32 teams split into eight groups of four, with the winners going into the main round, which then goes into Path A and Path B. Best checking out UEFA.com for the full format. Who would love to see a main round, or maybe just the elite round as a home and away format, much like the Champions League? I heard it's something in the pipeline for the future!
As usual, British and Irish representatives will have to come through the preliminary round in August. Helvecia, Perth Saltires, Blue Magic Dublin, Cardiff and Belfast United will represent the British Isles and with some very good teams, it won't be an easy feat to get through. Hopefully we can see a first for one of the home nations.
FA National Futsal Series
I'm really looking forward to the second season of BT Sport's coverage of the FA National Futsal Series. I had the pleasure of seeing a few rounds and the finals last season and a few more on YouTube. I think English futsal has an amazing opportunity to grow on and off the court. The top tier will see welcome additions Chelsea and York. Two clubs at polar opposites in terms of structure. One independent futsal club with a huge futsal community following, and one football club backed futsal team. Both ways work, as seen with Palma and Barça finishing in the Champions League spots in Spain and it'll be interesting to see how the season pans out and the level improves.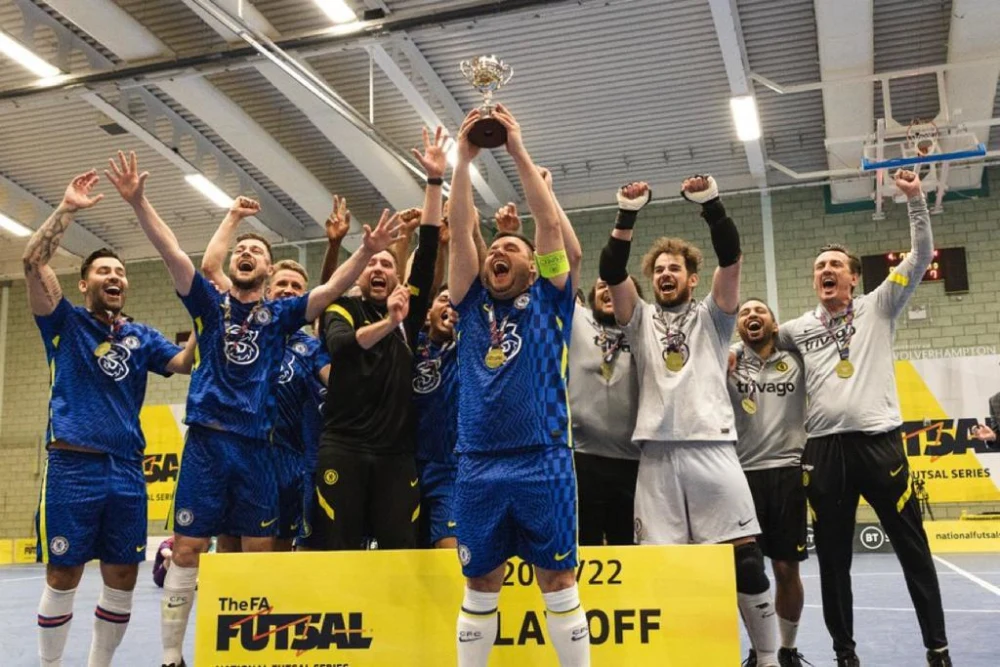 Eight teams will all fancy their chances. Bloomsbury beat Helvecia but failed to sustain the challenge and will certainly be back. Runners-up Manchester will build on a successful season as always and Loughborough will look to bounce on despite the departure of João Almeida. Bolton and Hartpury will be no pushovers either and I think we'll see the most competitive season since the 12-team Super League.
Spanish Primera
Barcelona dominated last season, winning a quadruple of the Super Cup, Copa de España, Champions League and League. They only missed out on the Copa del Rey, won by second division UMA Antequera. The so-called best league in the world will be once again the go to for us futsal fans and coaches to tune in to. And make sure you put the dates 8-13 February in your diary for the Copa. It's the best weekend in the calendar in my opinion and I'll be organising a trip there this season. Sign up for my newsletter to be kept in the loop. It will be a coach education trip, but also a cultural experience in whatever part of Spain it's held. Start saving up and I'll publish some information soon!
International Futsal
The Women's EURO is kicking off today in Portugal with Spain, Portugal, Hungary and Ukraine battling for the title held by Claudia Pons' Spain. Another big event in the UEFA Futsal Calendar is the Youth EURO.
UEFA continue to lead the way and the main event for the men this season will be the Futsal World Cup 2024 qualifying main round (draw taking place on 7th July) and main round playoffs. 36 teams will be divided into 12 groups of three. 20 teams will progress via the groups and playoffs to make up the elite round which will take place the following season. This has the makings of a very interesting competition. Of course, other continents have a lot of competitions going on, but that would be for another post! I hope to stay involved with the Solomon Islands as they get ready for 2024 World Cup, but let's see what happens there!
Watch futsal
So as you can see, the next 12 months have a lot of futsal and most of it can be found online to watch live. You can begin by watching the Women's Euro tonight!
Wouldn't it would be awesome if there was a "netflix for futsal"? All leagues giving the rights to all the games to one platform dedicated to futsal, rather than relying on illegal facebook/youtube links? Anyone with the tech, let me know!! That's a pipe dream and we'll have to make do with the leagues and competitions that offer the games on their official channels. Leagues such as England, Sweden, Italy (as far as I know) and of course UEFA. I'll try to find the best channels and share when there's anything of interest usually on my twitter.
I'm really excited for the new season and hope you are too.
Good luck for the new season, whatever you are doing. Don't forget to get in touch with any suggestions or just buy me a coffee!