As a coach, I've been fortunate enough to win a few trophies (BUCS in 2007, 2010 and 2012) as well as some regional titles, but the thing that makes me proudest is seeing players I coached going on to be successful – either in futsal or in life.
Having coached now for 17 seasons (I started at 21 at Teesside University), I've probably worked with almost 1,000 players over the years, from youngsters to adults and it's amazing to see players from my early seasons grow up. Whether or not they stay in futsal, I see that most of them have kept in touch with the people they shared a dressing room with and some are still involved in some capacity.
We remember the journeys, the holidays and the times around training and games more than the results.

Me.
Creating these lasting friendships and memories and providing experiences of a lifetime are more satisfying to a coach than winning trophies (which is still a pretty good feeling, even if it is 10 years since my last national title). On my recent visit to Spain, it was amazing to reminisce with players I coached at Tranmere and who said that the futsal season was the highlight of their time in England. Hearing these stories and realising that what we do is far beyond getting results is so pleasing.
FC Barcelona Futsal
I'm writing this post on the back of one of my former players making his debut for the best team in the World, FC Barcelona Futsal. Easily one of the highlights of my coaching career. Marc Puigvert has played in the last two matches for Barça and hasn't looked out of place. I had the pleasure to coach Marc in season 2015/2016 when I was at Industrias Santa Coloma (then Catgas, formerly Marfil).
Marc was a small player at under-14 level when he was 12 and struggled with the physical side – strength and speed. He had the skill and ability to do most things, but that season was his first year of "infantil" so naturally he was encountering older children, but he saw that as a challenge and found ways to overcome it.
In Spain, and I discussed the benefits of this at a talk in York in 2017, they play in two-year age groups, so the first year of that period, you are up against bigger players. I think this really helps development, but that's for another post.
Marc, for me, for his attitude and commitment, would have been captain the next season, but I left for Tranmere and Marc went on to sign for Barça. I was so surprised to see him debut for the senior team on Friday. Not surprised that he made it, but surprised it came at the tender age of 19.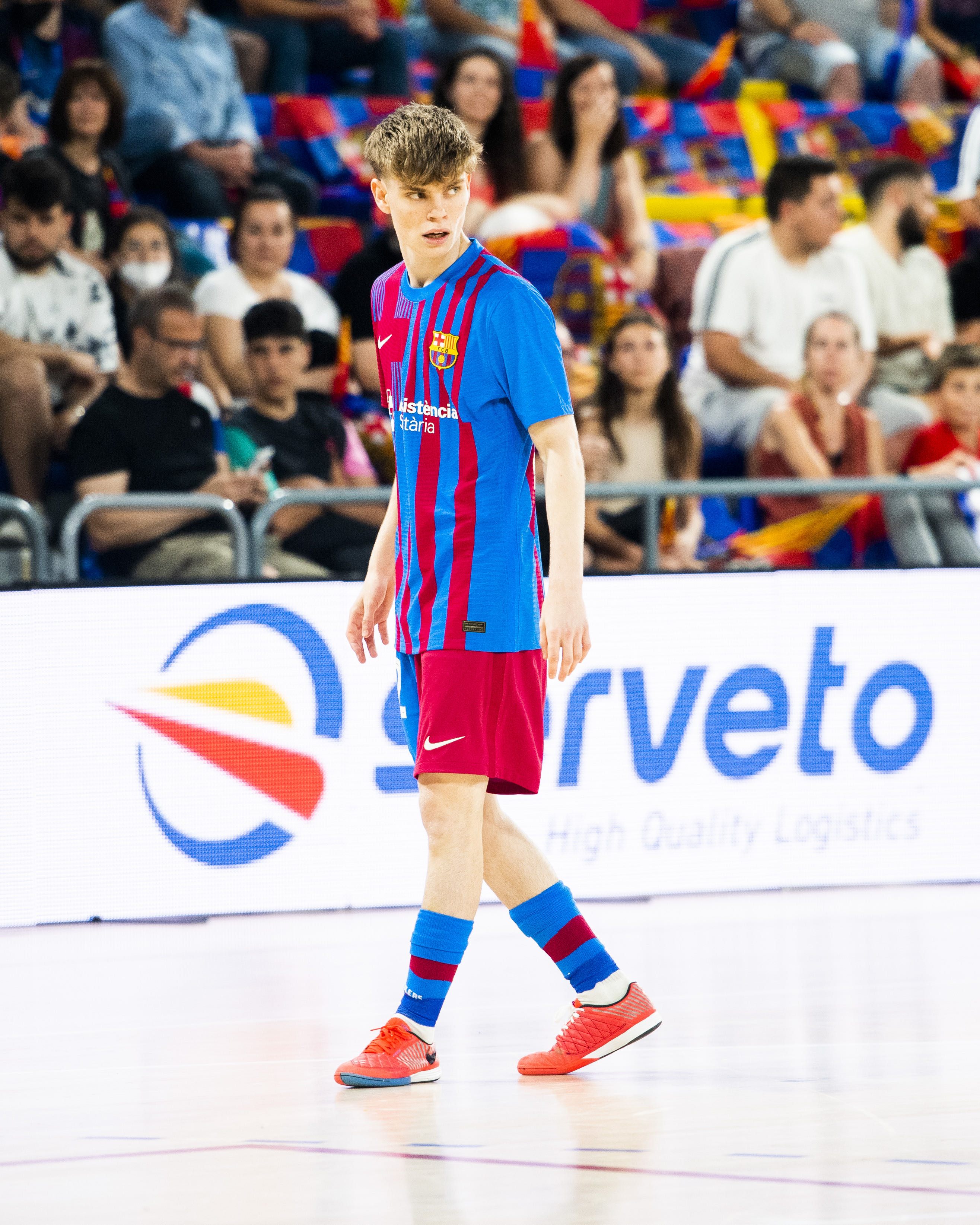 National Futsal Series Finals
This news came to me at the weekend of the FA National Futsal Series finals where I was about to watch a few players I coached at Tranmere, most notably, Kai Bone, who was playing in the final for Manchester, who made his debut in the same venue for Tranmere at 16. I also saw Lawson McCarthy, a player, along with Jordan Deer, that played an important part for me at Tranmere.
The weekend of the National Futsal Series finals was, in my opinion, a huge success for the set up, TV coverage and crowd. It maybe showed my age a bit that I managed to catch up with people I knew from 2005, such as Ikhlaq Hussein (congratulations on the title with Birmingham) and some that weren't even walking then! It reminded me somewhat of the Copa de España, for the environment, with futsal people from all over descending on Walsall to catch up, take part in the coaching course and watch the finals. I have big hopes for the future of English futsal, knowing that people who have been around since the beginning are pushing it and pushing it, with new people being drawn in regularly. There now seems to be a very strong futsal family growing in the UK!
Friendships
The best thing about futsal for me is the friendships that I've made over the years and seeing these people be successful. Having a player like Marc go on to play for Barcelona (and I hope he goes on to establish himself) is just a small aspect of why we do what we do. Our job as coaches is to provide players with memories and lessons that last a lifetime. They'll always remember how you made them feel and the opportunities you give them.
Winning is good, but when you see players you've worked with go on to be the best version of themselves is even better.
Profive Academy
Click now to learn more about the best futsal course available online.