The links in this article for the Profive course are affiliate links and will help me to continue sharing free sessions if you enrol on the course using my links. Read about my collaboration here.
An exercise to work on two player principles. This exercise is inspired by a good friend and mentor, Marc Carmona. He delivered this session when I organised the "Marc Carmona Masterclass" in England and I've used it often since then. It has a lot of potential to improve your team fundamentals and is competitive and simple at the same time.
Enrol on the two player principles course
Number of players
Minimum 8 players, 2 goalkeepers.
Equipment
Balls, bibs, full court, markers.
Description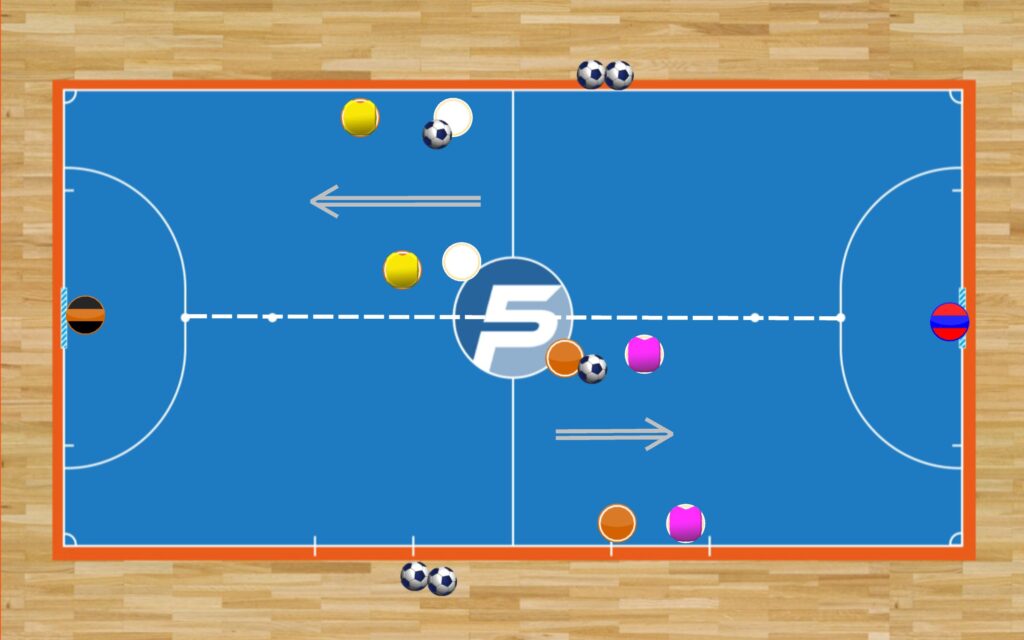 Pair up all your players and give them matching bibs. Play 2v2 in half court attacking towards one of the goals and a simultaneous 2v2 on the opposite side of the court, attacking the other goal. Any extra players will "queue" behind one of the games, with a ball, ready to be the next attacking pair. Once the action is over, the defending team moves to the opposite side and becomes an attacking pair, while the team that attacked takes up position as defenders. If the attacking team score, they skip defending and the defending team repeats until they don't concede. Defending team should be told to press (to encourage this you can give the attackers a goal if they achieve 6 passes).
Players can only cross the axis (midline) to finish 2nd post and for diagonal movement.
Objectives
Primary objective is to improve 2 player principles and the 2 man game.
Variations/progressions
Change direction of the attacks.
Allow players to use the whole half.
Limit touches/passes.
Defenders to hold a ball to make it slightly easier for the attack.
Add in an attacking floater (safe pass).
Score double for a specified two man play (e.g. parallel).
Coaching points
You can focus on a few principles and really go into detail about the movements and timings. Encourage the attackers to discuss a plan before they begin and to experiment.
Futsal Session Plan Template
Editable futsal courts and session plan (PowerPoint) with instructions for how to change colours, text and logos. I've also included some famous courts and most recently I have added a half court and a shareable session plan that includes all the things you could need on one sheet – perfect for printing or sharing!