After our 9-5 defeat to University of Malta last week we decided it best that I step down as manager of Swieqi United with immediate effect. I am disappointed that we couldn't complete the longer term plan, but I believe the future is good for the club. Results weren't what we wanted, and while I feel we were a team with potential and were the better* team in 5 of the 7 games we played, we lost too many games.
I hope the team can go on to achieve the goals this season and go far in the cups. I will forever be a fan of Swieqi United and hope to see the club grow into a force in Malta. I'm proud to be a tiny part of this club's history and I hope some of the young players I coached in the academy go on to be Swieqi senior players in football and futsal.
Swieqi United is a young club and is working very well thanks to the work the committee put in. Dylan and Timmy were a pleasure to work with and they have the club in their blood, so I am very grateful for the opportunity they gave me. It was always an ambition of mine to manage professionally abroad and the experience has been fantastic.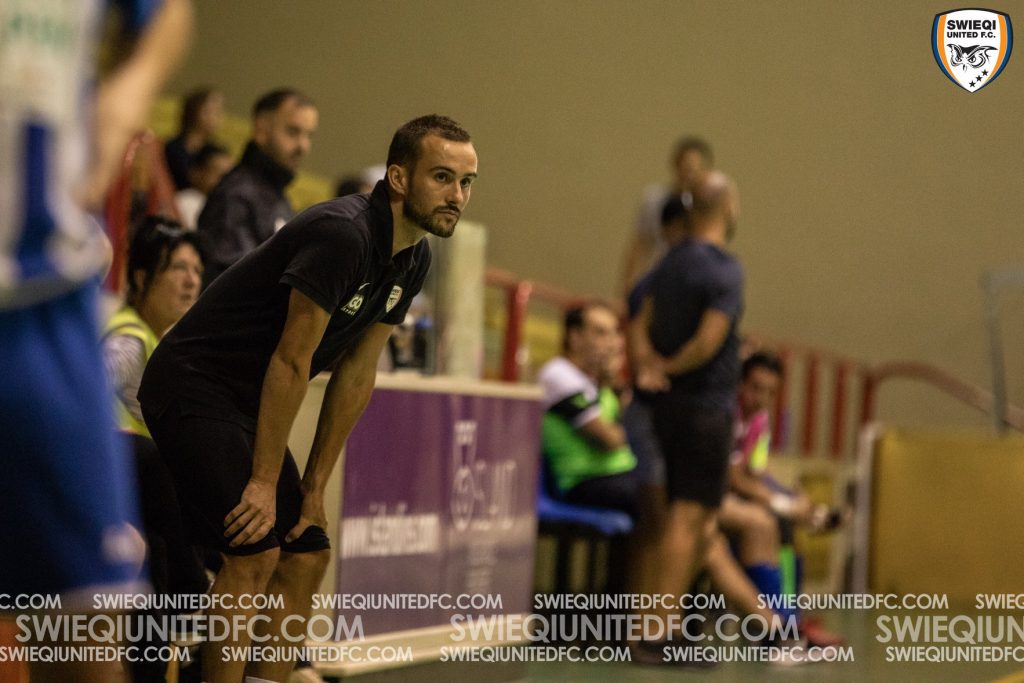 Thank you to the players over the two seasons for their sacrifices and it's been particularly nice to see young players step up into the seniors and perform. We had some amazing moments on and off the pitch.
Thank you Leo, Cipi, Dylan, Aaron, Bobby, Dylan, Maxi, Nacho, Bobo, Dusan, Andre, Cris, Stefan, Nathaneal, Rodney, Leo, Jason, Paul, Firas, Sergio, Alex, David, Agustin, Ayoub, Wallace, Clyde, Norvic, Shawn, Redeemer, Denzil, Steve and Armando… plus James, Shaun, Luke, Luca, Misa and anybody that ever came for a training session! If you ever need anything, as a player of mine, you will always have my support, don't hesitate to get in touch – I look forward to seeing your progress!
Of course, thanks to the staff, Kenneth, Nikola, Owen, Sean, Dylan, Timmy, Johann, Juanita & Adrian who looked after the players on and off the pitch in various ways. Without you, the job would have been impossible. Stay together and keep working hard!
Thank you to Justin Fenech, the president, and the committee who are putting Swieqi United on the map and making it a club that people are proud of.
I appreciate every single person who helped me in this role, even the opposition and, though they won't believe it, the referees, who have all added to this incredible experience. Please keep pushing for Maltese futsal!
Good luck to Vic Hermans and the national team – I will always watch out for the results and it was a proud moment when three players were called up for the latest squad.
I am going to spend some time with my family and friends and think about my next step. I would like to build something in my home town and help local coaches and players and perhaps sow the seeds of something more serious in Blackburn further down the line. I'd love to connect with coaches in the Ribble Valley and Lancashire to share my experiences and put our heads together.
I loved the idea of working abroad, but I missed the people close to me and something was calling me back. The fact I can now go sooner than expected is only a blessing in disguise.
Don't be afraid to fail! Many people will enjoy your failures more than their own successes. If I was afraid of their opinions, I'd never have made the leap (and many others in my life) and had such a good learning experience. Go out your comfort zone and do things that aren't easy. I've grown so much and I'm looking forward to coming home with a newfound appreciation for the things important to me. I can't wait to see what comes next!
*let me explain – the better team in my opinion wins games – defending is a key part of a game and I respect teams that are good at defending. When we talk about "better team" it often means a team that has most chances, most possession and presses high, controlling the game. I feel we were this team in most of our games, but of course, I appreciate result is the only statistic that matters. That said, we played in a brave attacking way that was reflective of my idea of futsal and created a lot of chances. Had we been able to score some of these, I think we would have been in a much better position. But fine margins that are there in elite sport mean we only picked up 3 points from 24 and you're reading this statement now!