With Profive academy – the best futsal course available online – we are offering FREE access to the course – Pivot Play. Click the link to gain access now.
Profive
Profive is an in depth coaching course, with hours and hours of lessons about all aspects of futsal and you can access ALL the content with the annual membership for €250 or €25 per month.
Pivot Play
Playing with the pivot in futsal is one of the most fundamental principles of futsal and some of the world's best players are pivots. This free course goes into detail about how to play with a pivot in your team and will answer some questions such as:
What is the purpose of playing with a pivot?
What principles do I need to know?
What different positions can the pivot play in?
And much more
Pivot play training sessions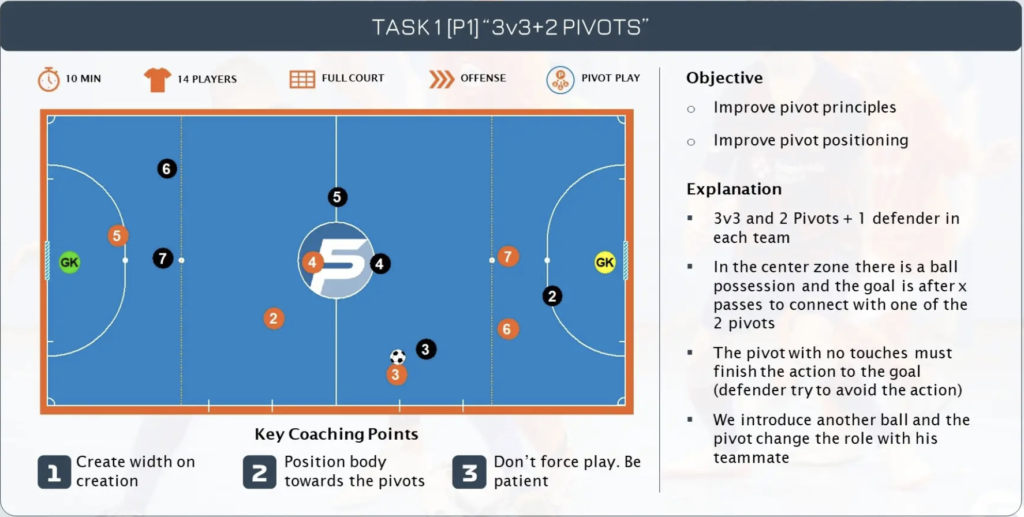 The free course also comes with over 20 training sessions that you can download and use with your team.
To register for the course use this link and get in touch with me for a free one to one session: https://40×20.profive.academy/courses/Pivot-Play?ref=83b9ed
Playing with the pivot
A very simple way of using the pivot is in the video below. Using the course, you can teach your players the principles of playing with a pivot and introduce it into your game model.
The pivot has to stay high and work with the opposition defender, with the aim of spreading the defence, creating space to play in. The pivot's movement should be determined by their strong side, in this case, the pivot is right-footed. As the players in the creation zone move the ball around, the pivot has to find themselves in positions to receive the ball, or, attracting the defender (5) to them to create space elsewhere on the court.
Eventually, the pivot receives the ball on the left wing with their back to goal and holds the ball for their team mates to attack. Of course, they can also turn and shoot or turn and play the ball to the far post.
What's your favourite pivot movement?