So, after several weeks of not working out fully due to injury, work, holiday and a bit of laziness, I am now back into a workout routine that is similar to before, but hopefully better. The major difference is I have added in stretching & mobility – something that is hard because it feels useless, but wish I'd done for the last 10 years.
I will also increase cardio for 2 reasons… 1, I was neglecting it before and my waist/body fat didn't seem to move and 2, I want to get back to my better running times for 5k/10ks, which have severely dropped off.
My aims are still to reduce my waist size slightly and add a bit of muscle – but as I usually work at a calorie deficit, I don't expect much growth.
Back to running
When I was running, I was doing sub 20 for 5k and close to sub 40 for 10k – but never got to try for sub 40 due to leaving Malta prematurely. That was a year ago and it came up on facebook memories and I'd love to get back! However, running and gym five times a week isn't necessarily compatible, but I'll try to run maybe 3/4 times a week – I think with a mix of slow and HIIT it will shift the last bit of body fat.
Below is an overview of my new workout routine, still sticking with the Thor workout, but since I began I've mixed in new exercises. Mornings will be following a shoulder mobility routine by Jeremy Ethier (video below) and some stretching following an app by Leap Fitness.
Running (though if I get an invite to play futsal, I'll do that!) will be evenings or days off gym – to fit around tiredness or other commitments and then after a run, some stretching as prescribed by my physio and foam rolling to improve my glutes. The app "Splits training" by leap fitness is a really good workout to stretch the legs too and I will do that most nights, though so far I've just done some key stretches.
Workout routine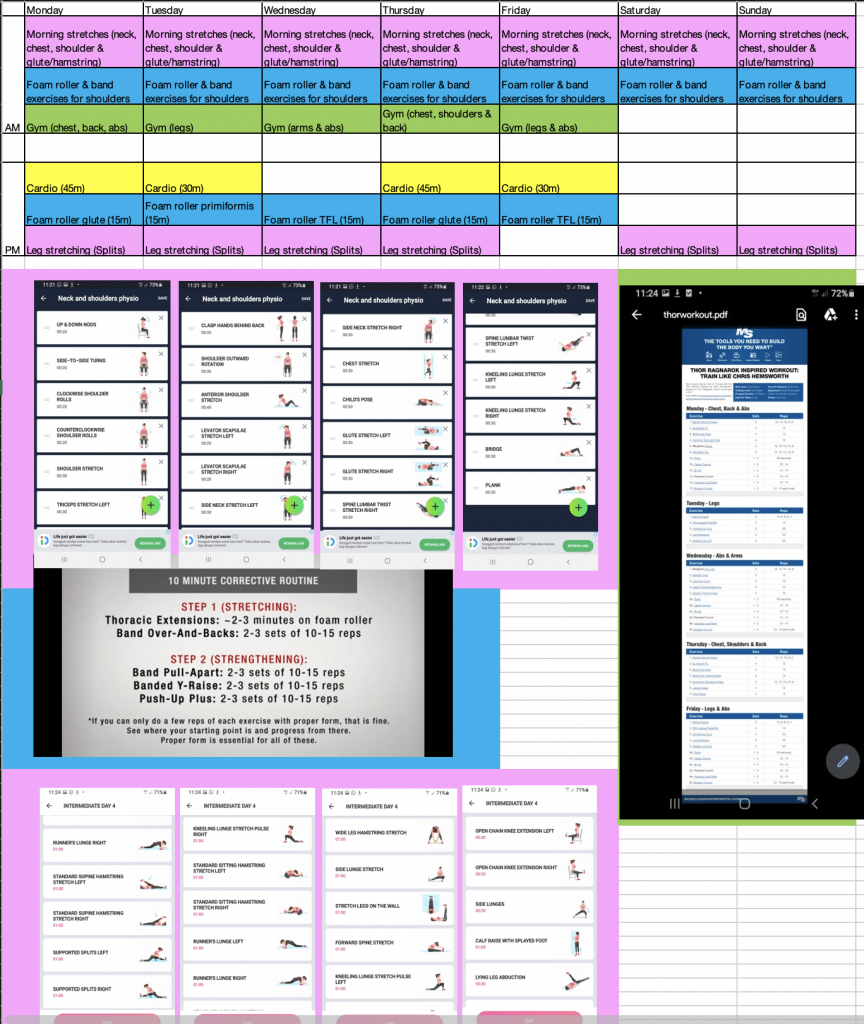 Results
I've got to a point where I'm happy with my appearance, weight and overall fitness and have found a workout routine that works for me and keeps me motivated. I think it's now a case of maintaining that and adding the cardio as mentioned, and of course, keeping my diet under control.
During this whole period, I've had a lot of cheat days with food/drink, but it's important not to cut out things you enjoy totally. You can achieve the results you want still with just a few changes! I do fast most days and I would totally recommend that as a default – don't have breakfast, just a black coffee, workout, then have a nice lunch/breakfast/brunch!
The key is finding something you can maintain alongside your lifestyle and at the end of the day, something that makes you happy.
Good luck and share your progress with me on instagram or twitter, or comment below!
Links for my workout routine
Below is the aforementioned video by Jeremy Ethier – an excellent channel on YouTube with loads of info about working out, fat loss etc.
Some of the resources I'm using are linked below:
Stretching/workout apps – Leap fitness
Fasting and body measurement app – Zero calories
Tracking my workouts – Fit Notes App
Body fat calculator – Calculator.net